Eva Hesse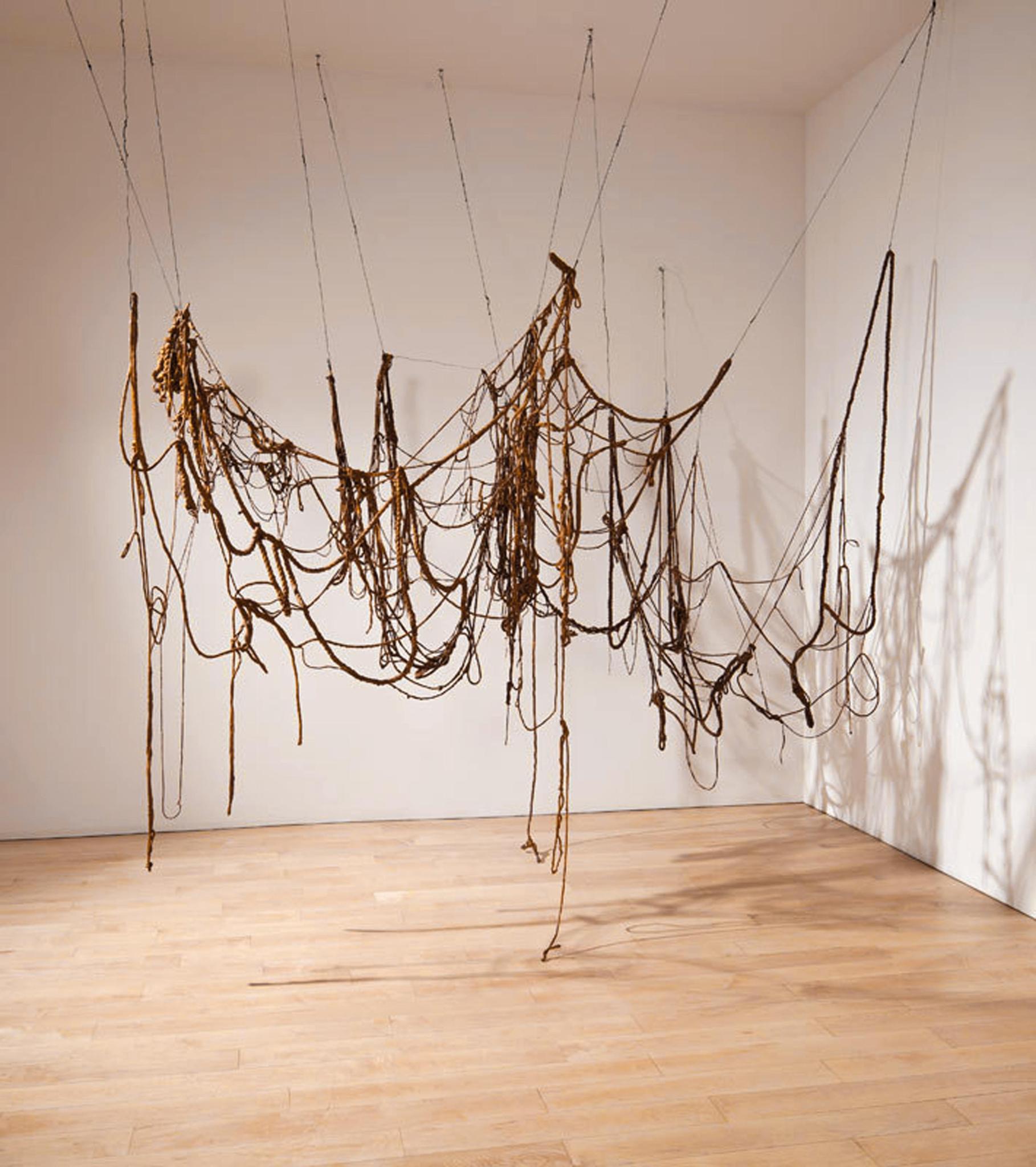 No Title
1969–1970
Her last sculpture, before her untimely death.
A twisting, looping, weblike structure, made of unravelling rope, encased in hardened latex.

Art critic John Keats talks about her practice and use of materials:
"immediacy may be one of the prime reasons Hesse was attracted to latex".

In the piece pictured on the left, Hesse used industrial latex.

"Industrial latex was meant for casting. Hesse handled it like house paint, brushing layer upon layer to build up a surface that was smooth yet irregular, ragged at the edges like deckled paper."
- John Keats, "The Afterlife of Eva Hesse." Art & Antiques Magazine, March 31, 2011

Her use of latex gives the work limited temporality, as the natural resin deteriorates over time. The work decays slowly, like a dying body, perhaps a reflection of her own looming mortality.

"At this point I feel a little guilty when people want to buy [latex works]. I think they know but I want to write them a letter and say it is not going to last… life doesn't last, art doesn't last, it doesn't matter."

Like her earlier modular pieces, the work changes with every installation; attatched at thirteeen points to the walls and ceiling.
In a drawing of her initial concept, she wrote:

"Hung irregularly tying knots as connections really letting it go as it will. Allowing it to determine more of the way it completes its self."      

Flexible, intestinal, bodily. Completing itself, giving the work freedom to self-organise its many tendrils; this piece is of the body and it's agency.

Its form has greatly inspired the installation process of my work, and her creative approach to industrial materials gives context and precedence to working with experimental and industrial materials, as I have also done, with casting and pouring soft-expanding polyureathane foam.